Home » Other Alaska Jobs
Alaska Tourism Industry Positions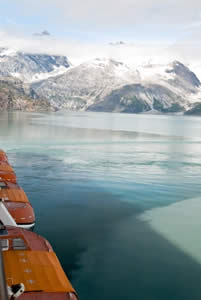 Every summer tourists flock to the great wilderness of Alaska on planes, cruise ships, ferries, and even in their cars via the Alaska Highway. The fun generally gets started in May and continues through September. What's the big allure? Well, there's no other place in the states quite like Alaska. Almost anywhere you go in this vast state you can see bears, moose, and other wildlife; go fishing for salmon or halibut; see mountains and glaciers; enjoy amazing camping and hiking; and take in small town charms.
Fact: According to official state statistics more than 1.96 million tourists visited Alaska in 2013 between May and September. More than half left the state on a cruise ship, and approximately 64% spent at least a night aboard a cruise ship during their trip!
As a summer job seeker this is important information! The million+ visitors come to Alaska looking for things to do in coastal towns such as Sitka, Juneau, and Ketchikan. And while in Alaska many cruise passengers end up taking a train or tour buses to interior hot spots, such as Denali National Park.
Many of the major cruise lines such as Holland America and Princess have separate 'land tour' divisions, which operate tour bus, rail and lodging operations throughout the state. Guess what? This is where the tourism industry jobs are! Those two companies alone hire thousands of seasonal workers for all kinds of positions. For Alaska cruise ship jobs look on each company's website.
Beyond the major employers there are opportunities with hundreds of other seasonal businesses – especially in towns receiving the most cruise ship traffic. Look for work in gift shops, with whitewater rafting companies, small, Alaska-based cruise lines, fishing and wilderness lodges, fishing charter operators…and so on. We talk about Alaska lodge jobs on another page of AlaskaFishingJobsNetwork.
The bottom line is that there aren't enough Alaskans to fill all the seasonal positions.